B Special Blue Train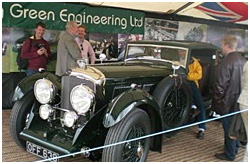 It had the hallmarks of a Hollywood movie. The glamour and elegance of the thirties, a dinner party on board a yacht moored near Cannes and Woolf Barnato capturing the attention of his dining companions with tales of his racing exploits. Woolf was the definition of a Bentley Boy. He was a rumbustious sportsman who led the Surrey cricket team, rode to hounds and remains the only racing driver with a 100% record of three Le Mans starts, 3 Le Mans victories. As Dinner progressed a guest speculated whether it were possible for a road vehicle to out run the recognised speed of the Blue Train from St Raphael to Calais.

Relishing the opportunity to demonstrate the power, speed and reliability of his beloved Bentley cars, Barnato promptly wagered £200 that he could not only arrive in Calais before the train, but he would be at his London club before the train pulled into the French port.

At 05:45 the next day, as Le Train Bleu pulled away from the main railway station at Cannes, Barnato, accompanied by his relief-driver amateur golfer Dale Bourne, set off in the Bentley Speed Six. Barnato knew that the train had to stop in Marseille, which would give him a lead. He also wired ahead and arranged for fuel stops to be ready and waiting en- route, his aim being to carry out fast and efficient Le Mans-style fuel stops. Some 570 miles later at 10.30am the Bentley reached Calais and boarded a small packet steamer. Arriving at Dover, Barnato and Bourne set off on the final 80-mile dash to London. After driving almost 700 miles, it was 3.20pm when Barnato parked the dust covered Speed Six outside the Conservative Club in London's St James', just four minutes before Le Train Bleu arrived at the station in Calais. The bet was won! The race quickly passed into Bentley folklore and was immortalised in Terence Cuneo's depiction of the coupe-bodied Gurney Nutting Bentley duelling with Le Train Bleu as shown above.

In celebration of Barnato's famous victory over 75 years ago, Racing Green Engineering has launched a limited edition of "Blue Train Car" recreations which will be shown for the first time at the Goodwood Festival of Speed in June 2007.

The RGE Blue Train Car construction number 1 making its first public outing at Goodwood's 2007 Festival of Speed. Like our Le Mans Eight the car is built around a Bentley Mark VI chassis and running gear mated with an 8 cylinder B80 or B81 Bentley engine. The bodywork is a mixture of ash timber framing and hand shaped aluminium panels. The sumptuous interior features Connolly Leather seats, polished walnut on doors, dashboard and cocktail cabinets which contain cut glass decanters engraved with the Bentley 'B'.


Racing Green Engineering
Blue Train – Specification
---
Chassis: Refurbished Bentley Mark 6

Engine: Bentley B81 6516cc or B80 5675cc, eight-cylinder in-line. Wet sump lubrication
4 SU Type H.6 carburettors. Selectable engine driven mechanical or twin electric fuel pumps.

Exhaust System: Large-bore straight through stainless steel exhaust system.

Clutch: Single dry plate, heavy duty or lightweight diaphragm.

Transmission: Bentley Four speed and reverse. Choice of crown wheel and pinion ratio.

Suspension: Upgraded front and rear road springs

Braking System: Hydraulic front drum brakes, mechanical rear drum brakes, assisted by mechanically driven servo.

Wheels & Tyres: 21" wire wheels with 21 x 7.00 tyres. Knock on stainless steel spinners.

Bodywork: Ash framed. Aluminium panelled and covered with wadding and rexine. Full length Webasto sunroof. All bright work nickel-plated. Interior leather upholstered, with driver and passenger bucket seats. Veneered woodwork with cocktail cabinets. High quality close woven carpets.